Top 5 Golf Courses In Spain To Play With Your Open Fairways Membership
25 July 2023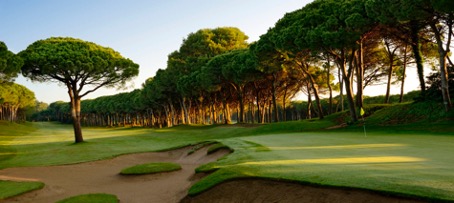 Welcome to Spain, a country that beckons golf enthusiasts from all corners of the globe! Nestled amidst the breathtaking landscapes and under the warm Mediterranean sun, Spain has captured the hearts of golfers worldwide. With its rich history, vibrant culture, and a plethora of world-class golf courses, it is no wonder why golfers love Spain.
Are you planning to go to Spain to extend the golf season during the autumn and winter? With an Open Fairways membership, you have no less than 199 different green fee offers to take advantage of in Spain (see all offers in Spain here). In this article we present the five highest ranked Spanish courses that are included in your Open Fairways membership. The list is based on the ranking from top100golfcourses.com
Ranked Spain's 45th best course.
Panorámica Golf is undoubtedly considered one of the best golf courses in Spain, designed by the well-known golfer Bernhard Langer. The course has a typical American design with narrow fairways and cut down ruff, which suits both you as a beginner but also the golfer with precision in the game. As Panorámica Golf is surrounded by valleys and mountains, you can expect fantastic views when you are out playing! The golf course has in a short time been established and hosted many major competitions, such as the Pre School of the European Tour and the Ladies European Tour.
Open Fairways members offers:
50% off single gf (Golfamore card).
Special price with Open Fairways card:
Midweek: €40 except Holidays.
Weekend: €52 (weekends and holidays).
Ranked Spain's 39th best course.
Saurines de La Torre Golf is designed by Jack Nicklaus, who had the idea of constructing the golf course inspired by the desert fields of Vegas and Arizona. Their 18-hole course is characterised by undulating fairways and greens with impressive shapes, a few bunkers and a large lake surrounding the course.
Open Fairways members offers:
50% off single gf (Golfamore card).
Ranked Spain's 32nd best course.
Montecastillo is one of the world's most popular golf resorts designed by Jack Nicklaus! The 18-hole course is a long and challenging course suitable for both beginners and experienced golfers. For the player who does not hit so far, the course can be perceived as extreme on some holes, as they are very long. Otherwise, the layout is designed for games that require precision and accuracy from tee to green! The golf course has large and deep bunkers, so it is important to play strategically throughout the round. The advantage is that you will find that your home course is much easier after a round here!
Open Fairways members offers:
50% off single gf (Golfamore card).
Special price with Open Fairways card:
Low Season: €45, Mid Season: €50, High Season: €56.
Ranked Spain's 28th best course.
Empordá Forest is located in a beautiful Mediterranean pine forest, in the heart of a fantastic landscape typical of the area. The golf course's water hazards, bunkers and fairways combine to create a fantastic course layout that must be experienced! The water hazards are not only a feast for the eyes, they also invite you to play challenging golf where precision is required.
Open Fairways members offers:
50% off single gf (Golfamore card).
25% off total green fees (Open Fairways card).
Ranked Spain's 3rd best course.
Parador de El Saler is considered one of the 60 best golf courses in the world and is the 5th best course in Europe. Built in 1968 by internationally renowned architect Javier Arana, the golf course measures just over 6000 metres above sea level. The course is located in the El Salers Nature Reserve, on the shores of the Mediterranean Sea in the region of Valencia. Its design has taken into account its integration into the protected landscape (with native plants such as the famous pale stone plant, known locally as "cat's claw"). The golf course has a varied layout, ranging from links courses that recall the famous Scottish golf courses, to areas of typical Mediterranean forest.
Open Fairways members offers:
50% off single gf (Golfamore card).