Have a great game at Ceann Sibeal (Dingle) Golf Club in Kerry, Ireland
11 March 2023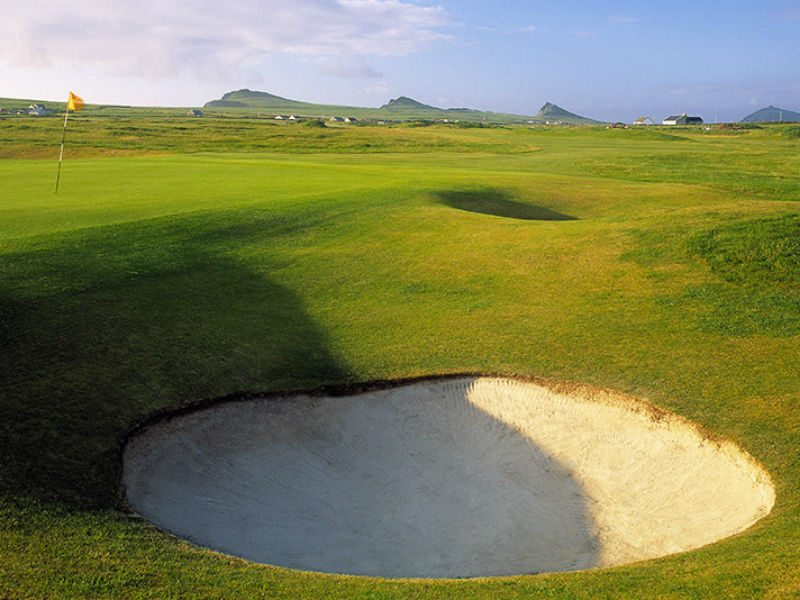 A fantastic Eddie Hackett links course, picturesque scenery and a warm and friendly welcome, makes Ceann Sibéal a happy place to play golf.
We're pleased to welcome golfers from all over the world to this special location on the Wild Atlantic Way.
Golf Chumann Cheann Sibéal (Near Ballyferriter Village and nine miles from Dingle) is nestled in a stunning green valley between the majestic hill of Cruach Mhárthain to the south and a ridge of jagged peaks to the north—Ceann Sibéal and the Three Sisters. To the east, Cuan Ard na Caithne caresses a two-mile long stretch of white sandy beach called Béal Bán and Mount Brandon. To the west, the mighty Atlantic is faced off by high rocky cliffs, punctuated with tiny coves and beaches just right for smuggling.

The Club was founded in 1924 (as Dingle Golf Club). Club had two temporary homes on the outskirts of Dingle before developing a nine hole golf course at Ballyoughtra (Ceann Sibéal) in the early seventies. The original design was by Eddie Hackett. The back nine was developed in the eighties and the clubhouse in the nineties.
Christy O'Connor Junior did some re-designing in the nineties also.

Each hole is full of tricky undulations and swales and hazards laid down long before the game of golf was dreamt of, including a winding "burn" that twists and turns through the entire course. Signature hole is "Ifreann" (Hell)-Ninth Hole- Par 4 -449 yards- Stroke Index 1.

As much a part of the experience at Dingle as our golf course, our clubhouse has a life all of its own. It resounds with the camaraderie of friends and locals, enjoying wonderful food and atmosphere in relaxed and casual surroundings. Upstairs you'll find our lively club bar and dining room with wonderful views of the Links. Our menu is seasonal and created from fresh local ingredients supplied locally from both farm and sea.

Dingle Golf Links is the ideal location for your golfing holiday in Kerry, South West Ireland.

This is golf in Ireland. This is golf in Ceann Sibéal.