Golfing along the east coast of Scotland
14 September 2023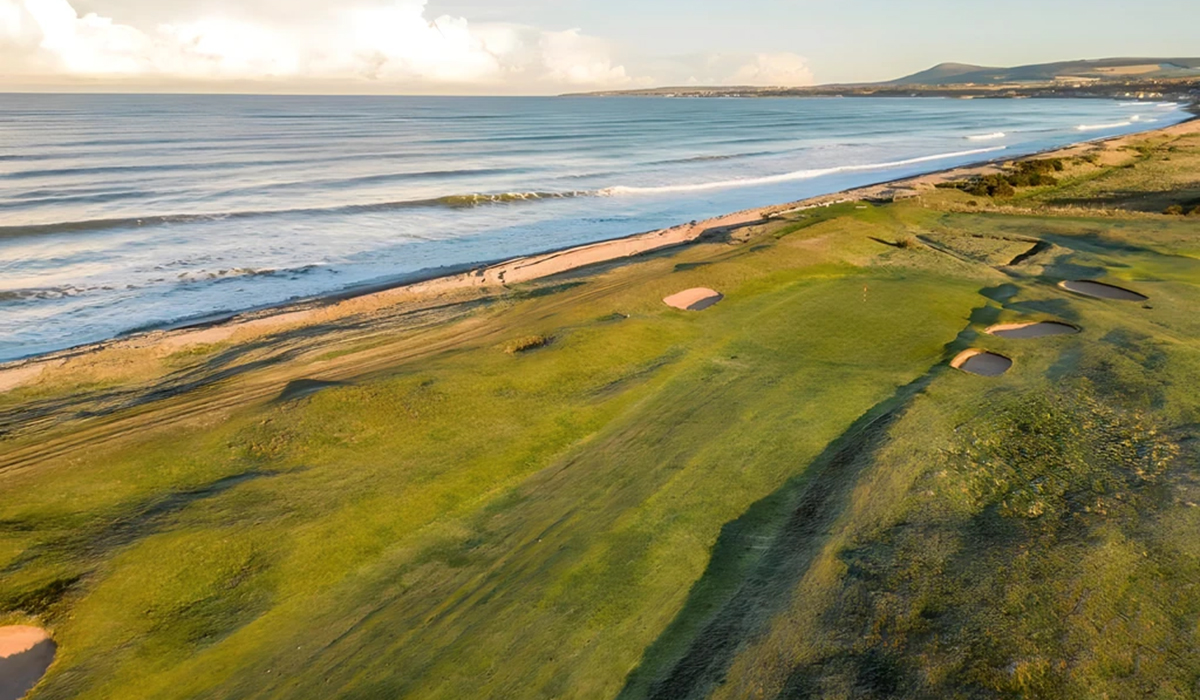 Welcome to the east coast of Scotland, a place that combines charming towns, dramatic landscapes and great golf courses. In this travel guide, we will take you on a journey along this wonderful coastline, where golf and adventure go hand in hand. Join us as we explore some of the most spectacular golf courses along this coast and experience the best that Scotland has to offer.
Embark on a journey along Scotland's picturesque east coast! Here you will find cosy towns with rich culture, unspoilt beaches, dramatic cliffs and cosy fishing villages. Simply a landscape that must be experienced! Not only that, but you'll find many golf courses all along the coast, so bring your golf bag and play a round during your stay!
We at Openfairways would now like to share our travel guide for anyone who wants to discover and play golf on the east coast of Scotland. With an Open Fairways membership, it gives you exclusive access to a wide range of courses at a great price.
We start the trip with a nice 18-hole round at Leven Links Golf Club. With a location only 1 hour from Edinburgh, it is easy to get here. Located right on the waterfront and beach of the Firth of Forth, Leven Links Golf Club is one of Scotland's historic and oldest golf courses, the 11th oldest in the world. Originally only a 9-hole course, the golf course was expanded to 18 holes in 1868 - with input from Old Tom Morris himself. Many qualifiers for The Open Championship have been played here, which indicates the high quality of the course. This Scottish links course offers great value for money and is known to be an excellent golfing experience throughout the year. Thanks to the golf course's proximity to the sea, this is a dry climate, which means fast and well-maintained fairways in perfect condition in the summer but also allows for quality golf all year round. Hole 18, their signature hole, has been voted the 2nd most challenging hole in all of Scotland. A fun hole where all types of golfers are put to the test!
Afterwards, travel north to St Michaels Golf Club, a short 15 minute drive away. This parkland 18-hole course, par 70, with gently rolling fairways, will provide a test for all types of golfers. After founding the club in 1903, they hired greenkeepers from St Andrews to lay out the course, with help from both Old Tom Morris and Hugh Hamilton. The first nine holes, with breathtaking views of the Eden Estuary and the church spires of St Andrews, offer wide fairways with views of the greens and some challenges to catch the unwary. The remaining nine holes are a bit more difficult, but with careful play and precise shots you can finish with a great score. This enjoyable golf course is full of variety and also offers a short practice area with 3 holes.
Monifieth Golf Links
The tour continues along the coast northwards to another great links course, Monifieth Golf Links. The club consists of two golf courses – Medal & Ashludie Course. Medal Course was a qualifying venue for the 2016 Seniors Open Championship and is widely recognised as an excellent example of an East Coast championship links course. The 18-hole course measures 6 650 meters, par 71, offering a gently undulating links course with large, fast, firm and fair greens. The Medal course has a reputation for being tough and uncompromising, with narrow fairways, dense semi-rough, fast greens and deep bunkers. The unwary golfer will repent at leisure! Ashludie Course is 1 500 meters shorter than the Medal Course, with slightly smaller greens combined with a more challenging profile, offering an enjoyable level of difficulty for all golfers. This course will ask questions of every aspect of your game, especially the greens, where careful planning and accurate iron shots will be rewarded, and where sometimes you will have to take shots you would never play elsewhere.
We continue along the coast and drive just 15 minutes to another links course, Arbroath Golf Links. Arbroath Golf Links lies just south of the town centre, set on a narrow strip of land adjacent to the North Sea. The 18-hole course is a traditional links course, with a long and rich history. The golf course was originally designed by Old Tom Morris in 1877, and later updated by Willie Fernie, and then again by James Braid in 1931 with a new design. You can take in the views of the sea and sand dunes, that are a constant companion as you play, with the added challenge of the sea breezes. Aside from the winds coming off the North Sea, you will also face many other obstacles, such as the 70 strategically placed bunkers, dense coastal rough and a range of water hazards across the entire course. The course also offers challenging and enjoyable greens to play on, all maintained to an exceptional standard. After you have finished your round, sit back and relax in Arbroath Golf Club's airy lounge overlooking the 18th green and enjoy a tasty meal.
The trip ends at Montrose Golf Links, a 30-minute drive from Arbroath. The club offers two superb 18-hole courses, the 1562 Course and the Broomfield Course, which provide an excellent, year-round golfing experience. 1562 Course is the world's fifth oldest golf course and one of Scotland's finest courses. This magnificent course is nestled in beautiful natural surroundings, and provides golfers of all levels with an enjoyable game on the undulating fairways and fast greens. Be wary, though, as the sea breezes can catch you mid-game and ratchet up the difficulty. This is a quintessential links course: demanding, fair and enjoyable to play on. Broomfield Course requires a careful and precise game where long strokes are not required and instead the course rewards carefully considered shots, hit cleanly and accurately from the tee. The sudden sea breezes can catch you unawares, and make what seems a straightforward approach much more of a challenge, but when winds die down, your shots will fly true for a great score. At first glance, Broomfield may appear level, but looks are deceiving, and the naturally undulating fairways and greens require precision from tee to green. Do not miss out on these two fantastic golf courses, which complement each other perfectly!
If you want to continue your journey along the coast, there are obviously more golf courses to the north that you can play with your Openfairways membership. The same applies if you want to drive back towards Edinburgh or Glasgow to the south if you want to explore other areas. Hopefully this guide has give you some tips about where you might play your next round in Scotland.