Life gets better after a good game of golf!! So play a game at Aphrodite Hills in Paphos, Cyprus
14 November 2019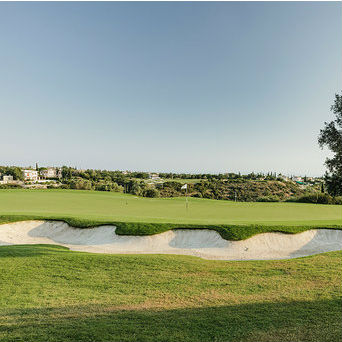 Set your senses free and enjoy all this renowned destination has to offer. Located on the stunning island of Cyprus, nestled in the heart of the Mediterranean, Aphrodite Hills Resort is destined to mesmerise you with its incredible beauty.
The first ever leisure and golf development of its kind in Cyprus - this is not just a golf course… it's the crème de la crème of its kind; destined to put a magic spell on you.
Apart from the wonderful views out to sea from so many holes, the striking feature of the site is the deep canyon that separates two plateaus. Incorporating this gorge into the course design was a bit of an issue and deciding how to cross it! A clever network of cart paths solved it, and in addition, the descent down to the 7th tee is an adventure in itself.
The original site was fairly well covered with carob and olive trees and fine native grass out in the rough that turn golden in late summer. Today these provide a simple but elegant landscape palette and with a little additional planting, the holes were "Mediterranean mature" on completion.
Acclaimed architect Cabell Robinson kept the fairways spaciously wide between the trees, the greens on the large size, and both men and women have two sets of tees to choose from to match capabilities. Challenge it from the very tips however, and in a bit of a breeze, and that can be a whole different story.
Aphrodite Hills is the culmination of Robinson's 35 years designing courses, and he rates it among his very best work. But you the golfer, will be the final judge. Above all, take in the views, the landscape and the tranquility.
A golf trip here will create the most enchanting memories possible.