Our best courses along the Costa del Sol!
07 September 2023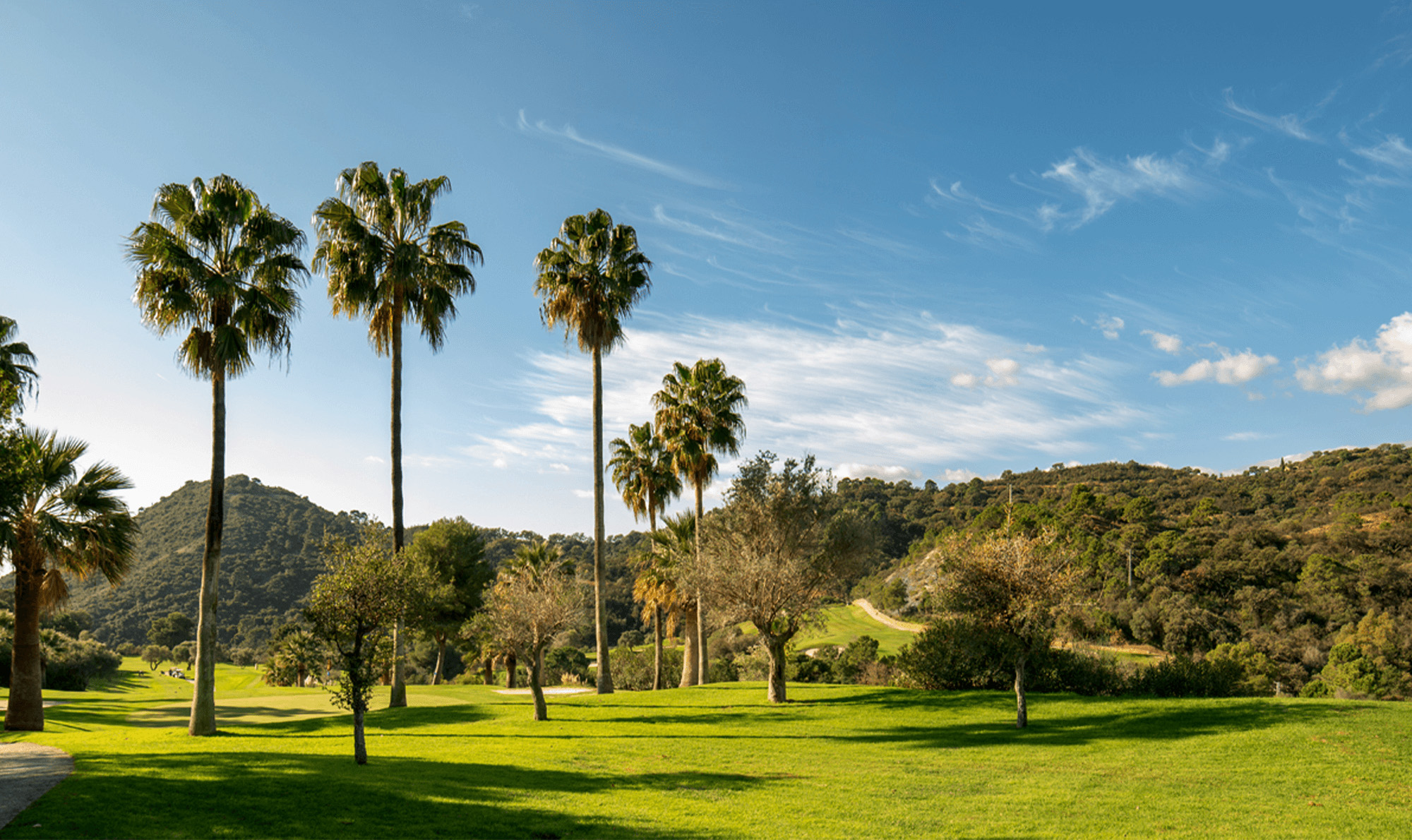 In recent years, Marbella and Costa del Sol have become a popular destination in Spain, especially for golfers, as they are spoilt for choice with excellent courses thoughout the region. It is no suprise why the area has earned the name of Costa del Golf. What's more, this region is blessed with the perfect golfing climate, with around 300 sunny days a year. This is golfing heaven, all year round! The close proximity of Málaga Airport offers a wealth of flight connections.
Alongside the superb sun-blessed golf courses, there is also plenty to see and do in the Costa del Sol. Why not explore the rich history and culture of the region or enjoy a wide range of delicious Spanish tapas? And of course, no visit would be complete without a few relaxing beach sessions on the kilometre long sands. Whether you want to play golf or take a break and explore, you have a wealth of options on your doorstep!
In and around Marbella and Estepona lie no fewer than 11 Golfamore courses waiting to be discovered for half the green fee. What better way to enjoy a golfing vacation and save money for other treats as well! Below, you can read more about a few of our best golf courses, dotted along the shimmering Spanish coastline!
Golf courses around Marbella
Santa Clara Golf Marbella is a lovely 18-hole course, par 71, nestled harmoniously in a beautiful natural setting, rich with local flora and fauna. Created by Enrique Canales Busquets, who blended a technically challenging course with an elegant design, where you play on wide, slightly undulating fairways with few rough areas and fast, open greens. In essence a fun, varied and well-maintained course! Located just a short distance from the centre of Marbella, this course is easy to access and enjoy!
Los Arqueros Golf & Country Club offers a beautiful 18-hole course, par 71, designed in 1991 by the legendary Severiano Ballesteros. One of the most important aspects of the design, and close to Seve's heart, was to blend the course in seamlessly with the natural surroundings, which he used as an inspiration to add character to each and every hole. As you play, you will navigate many water hazards and some tight, narrow fairways that offer an enjoyable challenge to unlock. The 18-hole course measures 5 700 meters and will ask questions for the experienced golfer while testing your ability as a beginner. And, as you play, you can soak up the stunning mountain views of the Mediterranean!
Atalaya Golf & Country Club's 18-hole "New Course" was opened in 1990, and was designed by Paul Krings. The New Course is located in the hills overlooking Atalaya's Old Course, and offers stunning panoramic views of the Med, Gibraltar and the surrounding countryside. This balanced golf course is a pleasure to play on and offers a fun challenge for golfers of all levels. The 18-hole, par 71 course features undulating fairways and greens with varying slopes and elevations, where accurate and strategic play is well rewarded over powerful drives. This relatively short course is also deceptively tricky! The hilly course is not too taxing on foot, although a golf cart is recommended on hot summer days.
The Golfamore card is valid on the Atalaya New Course.
Golf courses around Estepona
Azata Golf offers an 18-hole course, par 71, providing spectacular views of the Mediterranean Sea and the Sierra Bermeja. This technically challenging golf course includes a range of water hazards and undulating terrain requiring careful shot play and accuracy as you play. This enjoyable course also includes hidden holes and narrow fairways, so a strategic approach is essential. The fairways are relatively short, so rounds are quick and long drives are less important than precise play. And, the lovely greens are fast, even the undulating ones, making for an exciting game. Due to the hilly course, we recommend a golf cart, especially on hot days!
Casares Costa Golf is a varied 9-hole course that winds through a valley on relatively flat terrain and offers stunning views as you play. The golf course consists of three par 3s, five par 4s and one par 5, designed by Juan Carlos Martínez, and has grown to be one of the most popular golf destination on the Costa del Sol due to its challenging and enjoyable layout. This perfectly balanced course requires not only an accurate short game, but also longer shots on the undulating, narrow fairways, dotted with various water hazards. This well-maintained course is a real pleasure to play on and is suitable for all levels of golfer.
Doña Julia Golf Club is part of the Doña Julia Golf Resort, located in Casares. This golf course blends seamlessly with the lush natural surroundings, providing breathtaking panoramic views of the Mediterranean Sea and the Sierra Bermeja mountain range. The 18-hole course, par 71, measures 5,976 metres with the tees, bunkers, drainage and greens constructed to excellent USGA standards. This course is also superbly maintained throughout! The varied design incorporates some quite challenging and interesting holes with changes in elevation alongside hilly, undulating fairways. Please note, you need to use a golf cart to play here!