Enjoy this Autumn with a golf break at the beautiful Costa Teguise Golf in Lanzarote
09 September 2019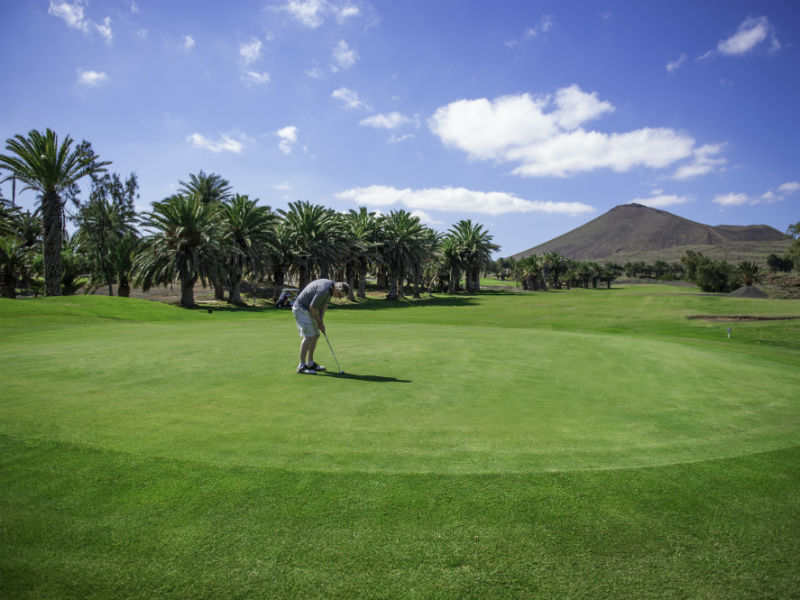 Located in the foothills of an ancient volcano and with breathtaking views over the Atlantic Ocean, this golf course is maintained and ready to be played all year round. It is located 5 minutes away from the most important hotels in Costa Teguise and its beautiful beaches.
This golf course lies at the foot of an old volcano and has breathtaking views of the Atlantic Ocean. This 18-hole course, which was designed by British landscape architect John Harris, was built in 1978. This is a fantastic course, not only because of its design but also thanks to the excellent condition in which it is kept all year round.

The course runs along the side of an old volcano, set within an inspirational landscape of volcanic lava, cacti and palm trees. This is nature at its best, where man cares for his natural habitat just as César Manrique taught the people of Lanzarote.

The course is designed to be both smooth and varied. Its numerous doglegs stimulate players and require them to bring all their clubs into play. It even represents a challenge for professional players, whilst offering an attractive and enjoyable game for those of more modest skills. The fairways are surrounded by over 3,000 palm trees and there are breathtaking views of the Atlantic Ocean.

In addition to its privileged location, it benefits from a warm and pleasant climate all year round, which is tempered by a sea breeze from the island's almost constant trade winds.