Golf in a Uniquely Irish Setting at Dromoland Castle Golf & Country Club in Clare, Ireland
14 May 2018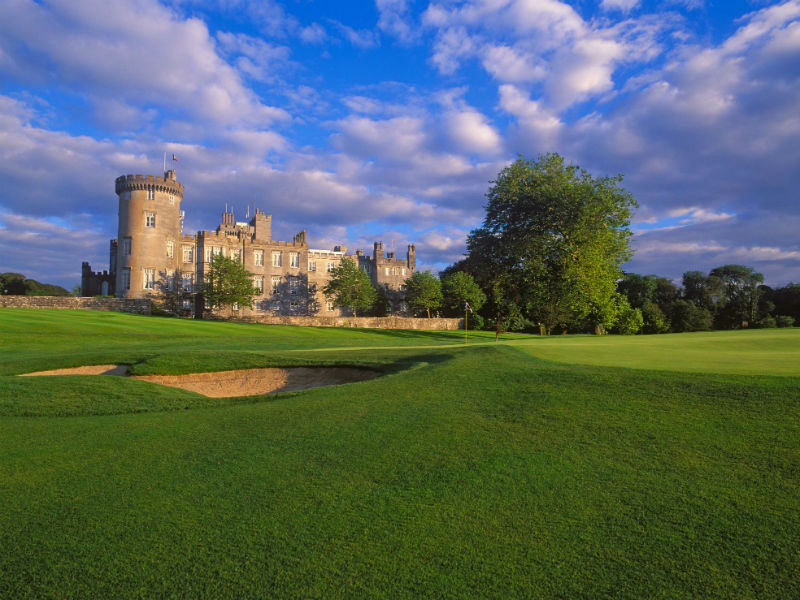 Set in the stunning surrounds of Dromoland Castle. Take in the majesty of the 15th Century Castle as you enter the estate, winding up through the golf course and surrounding lakes.


The purpose built Club House and 18 hole parkland course is set against the impressive backdrop of Dromoland Castle. In existence since 1961, our course was designed by the renowned golf architect Mr. Brook L. Wigginton of the USA.

In 2003 the par 72 Dromoland Castle Golf & Country Club championship parkland course was carefully redesigned and updated by world class architect Ron Kirby and Irish golfing legend J.B.Carr. The course plays 6,824 yards for men and 5,242 yards for ladies. It is a captivating test of golf surrounded by the wonders of the Irish Countryside. It has been described as an experience never to be forgotten, presenting the pure challenge of golf to both professional and amateur alike.

The 18 enchanting holes sweep through 450 acres of shady woodland, open rolling pasture, feral lakes, streams and the magnificence of the 16th Century baronial Dromoland Castle presiding over the estate. Yet for all the regal splendour and unassuming nature, it is a course for the 21st Century.

Widely regarded as one of the finest 18 hole parkland golf courses in the Country and is situated in the West of Ireland, Dromoland Golf Course has been described as an experience never to be forgotten, presenting a stern challenge to both professionals and amateurs.

With Shannon Airport only a 10 minute drive away on the motorway, Dromoland has never been so easy to access. Dromoland offers a great introduction to Irish golf and may also be an ideal venue for a final round when departing in the late morning or early afternoon. The course is available to groups and corporate events and offers a range of packages to suit individual needs.

The Golf Team at Dromoland offer an assured and professional service and challenge you to experience the soft pleasing curves and endless variety that only Dromoland can offer.