Play golf in the beautiful Pestana Beloura Golf Resort in Lisbon, Portugal
23 March 2018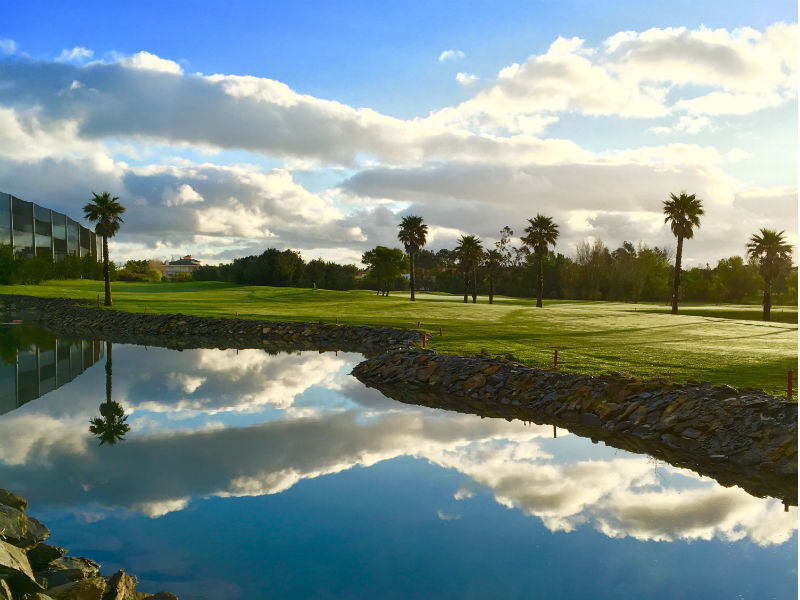 Play great golf in Portugal at Pestana Beloura Golf Resort in Lisbon with Open Fairways. Happy Golfing!
Make more of your stay in Lisbon area by playing at the Pestana Beloura Golf course, located by the verdant foothills of Sintra, a breathtaking backdrop. Designed by Rocky Roquemore, this is a fairly flat course, and provides a not-too-strenuous test to all abilities an enjoyable challenge for golfers of all levels with its 7 lakes.
The course is complimented by excellent practice facilities with PGA qualified teachers and an excellent Clubhouse which incorporates the Golf Shop, from which rental and other golf equipment is available. At the Bar 19 you can enjoy a beer, Portuguese wines, meals and Tapas on the splendid terrace overlooking the 18th hole and the Sintra Hills.
The course is irrigated automatically from its own water supplies, guaranteeing crisp lies on lush tifton 419 fairways and true, holding greens from a green sward of creeping bents. Signature holes are the 16th and 8th holes.

On the 16th, there is a lake that eats into the fairway so it is necessary to make the carry and then play a strategic shot short of the stream crossing the fairway 100 meters from the green. The green is well protected both left and right by bunkers, plus it slopes sufficiently from back to front to test your birdie putt.

The shot from the 8th Tee demands accuracy to find the fairway that threads its way between the lake on the left and out of bounds on the right. Whilst accuracy is at a premium, the Tee shot should be of sufficient length to enable the putting surface to be reached with a probing long iron.

The course is complimented by excellent practice facilities and qualified teachers. The magnificent clubhouse incorporates the golf shop from which rental and other golf equipment are available.