Southern Europe's most visited Golfamore courses
14 June 2023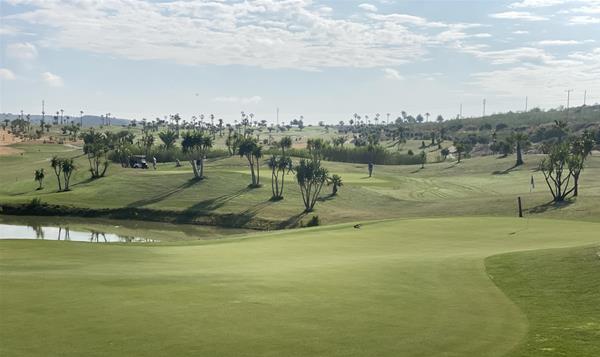 With Golfamore's exciting acquisition of Open Fairways, a whole new world of golfing opportunities has opened up to you. With the Golfamore card, you can now explore over 430 golf courses in Spain, Portugal, Italy and France at incredibly affordable half green fee prices. It's an opportunity that will not only transform your golfing experience, but also give you the chance to explore the most beautiful and enticing golf destinations in Southern Europe.
This article is dedicated to you, the adventurous golfer who is not afraid to explore new territories. We have compiled a list of the most popular Golfamore courses in Southern Europe, a resource that will give you endless inspiration for your upcoming golf trips during the fall and winter season.
Spain
Vistabella Golf - Alicante
Vistabella Golf is a relatively new golf course that opened in 2009. This 18-hole, par 72 course measures 6100 meters and features challenging greens, wide fairways and many strategically placed bunkers. All obstacles are integrated into natural surroundings with a responsible use of resources that has made this more than just a golf course, with a unique landscape of over 40 hectares covered with different species of Mediterranean trees and shrubs. The golf course is designed to suit all types of golfers, allowing all players to have a memorable round from start to finish.
Font del Llop Golf - Alicante
Font Del Llop is located in the heart of Alicante, designed by Blake Stirling and Marco Martín. The 18-hole course has an American design and Scottish layout, making the holes both challenging but fun to play. Each hole has 5 different tees to play from, which makes the holes varied depending on where you tee off from. The golf course has natural streams and a small river, which together make up all 5 ponds and water obstacles on the course. This increases the level of difficulty, but at the same time creates excitement in each hole. Therefore, you will have a lot of fun during the round!
Portugal
Palmares Ocean and Living - Algarve
Palmares Ocean and Living is one of the Algarve's first golf courses, designed by Robert Trent Jones Jr. His ambition was to design a course with high standards for international golf tournaments, but which would also provide a wonderful experience for club members and visitors. The golf course is located near the popular tourist resort of Lagos, so you can combine golf with vacation. Palmare's layout has a mix of links-inspired holes and parkland-inspired holes, providing both interesting and challenging holes.
Boavista Golf & Spa Resort - Algarve
Boavista Golf & Spa Resort is strategically located west of the historic city of Lagos in Portugal, nestled in a landscape of natural beauty. The resort is one of the most well-maintained golf courses in the Algarve and has sweeping views of the Monchique Mountains to the north, while the pristine waters of the Atlantic Ocean provide a glorious seascape to the south. The 18-hole championship course therefore offers breathtaking views on every hole. The rest of the course is well-maintained with hard-to-read and fast greens, rolling fairways in good condition and varied, challenging holes.
Italy
Argentario Golf & Wellness Resort -PGA National Italy - Tuscany
Argentario Golf & Wellness Resort has 18 panoramic holes, par 71, measuring 6218 meters in total. The golf course is the only recognized PGA course in Italy, located in a protected natural area, just 5 minutes from the Duna Feniglia nature reserve and 25 km from the Parco dell'Uccellina reserve. The Orbetello Lagoon, the sea and the hills create a microclimate that makes it possible to play golf at any time of the year. Overall, the golf course is beautiful and well maintained with fast greens and fairways in top condition. The holes are varied and technically challenging, with greens that are relatively small and water hazards that often run along the side of the green. So here you have to play both strategically and carefully for a good score!
Cosmopolitan Golf & Beach Resort - Tuscany
Cosmopolitan Golf & Beach Resort is located in Tuscany on the sea coast in a protected natural area within the Migliarino - San Rossore - Massaciuccoli Natural Park. The golf course is therefore naturally integrated into nature where wind, sand and water form a combination that makes the course technically interesting. The course occupies an area of 70 hectares and offers great variety and beautiful views. Its 18-hole course puts you as a player to the test as challenges such as water hazards and strategically placed bunkers make it necessary to play strategically during the round. This means thinking carefully about each shot and landing the ball with precision. But don't be intimidated, this course is fun to play for all types of golfers!
France
Golf Saint Donat - French Riviera
Located in the heart of the French Riviera, Saint-Donat Golf welcomes you all year round. Here you will find a historic 18-hole course designed by Robert Trent Jones with a unique layout and elevated landscapes. The golf course is ideally situated between the sea and the mountains, giving you incredible views during your round. In total, the course measures 6031 meters and thanks to its landscape is relatively hilly, which makes the holes interesting and technically challenging. Otherwise, the holes are well maintained and varied with nice fairways and greens.
Golf Blue Green Sainte-Maxime - French Riviera
Golf Blue Green Sainte-Maxime offers one of the most beautiful views of the bay of St-Tropez, located in an exceptional setting overlooking the Massif des Maures. The golf course was designed in 1991 by course architects Peter and Don Harradine who first opened 9 holes on an old military course before deciding to add 9 more holes. The first nine holes are characterized by high tees, slopes and streams while the last 9 holes extend from a plateau where you can enjoy panoramic views of the Massifs des Maures. This 18-hole course is otherwise well maintained and pleasant with wide fairways and well-defended greens. A golf car is mandatory for all rounds at the club.